Welcome to Jonesport-Beals
High School!
Our school is located on a scenic 11-mile peninsula in Downeast Maine and has about 100 students enrolled. Our town is the home of a large lobster-fishing fleet and our community offers spectacular views of Maine's coast and islands.
Total Trades 2017
Senior Carol Smith running a backhoe
First drone flight 11/22/16
This is the first video recorded by the robotics class. We start at JBHS and fly down the soccer field by Jonesport Elementary.
Drone flight 11/22/2016 over sign
This is the second video created by the robotics class. Flight is over school sign and up to school where you can see other students practicing and Mr. Kelley and Ms.Willard watching.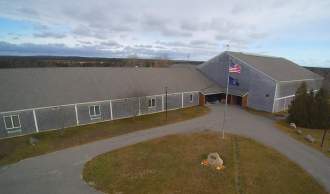 Jonesport-Beals High School